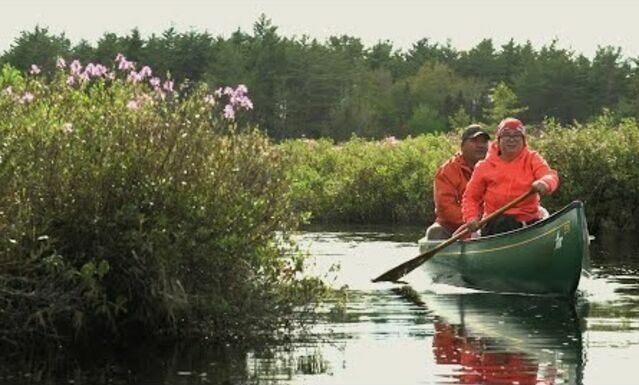 Image from IN DEFENSE OF OUR TREATIES.
Cinema Politica audiences in Canada may be familiar with the ongoing violation of sovereign Mi'kmaq fishing rights in Nova Scotia. On this World Food Day, we thought it worth highlighting this issue as one that is situated at the crux of food security and Indigenous sovereignty, revealing the deep impact of arbitrary rulings by Canadian federal agencies on the livelihoods of First Nations.
Mi'kmaq fishers have been restricted from fishing in their own territories according to decrees by the Fisheries Act and the Maritime Provinces Fishery Regulations, in clear violation of the Marshall decisions. A statement released on September 23 by the Council of Canadians, for example, emphasized that Mi'kmaq rights to fish for a moderate livelihood are protected "by the Peace and Friendship Treaties of 1760/61, reaffirmed by the Supreme Court of Canada with the Marshall decisions of 1999." These treaties had been signed by the British and Mi'kmaq, Wolastoqiyik and Peskotomuhkati in 1760–61, impacting communities across New Brunswick, Nova Scotia, Prince Edward Island and the Gaspésie.
As journalist and lawyer Pam Palmater recently wrote, the Canadian government has "failed to fully respect or implement the right of Mi'kmaw peoples to earn a livelihood from our own lands and waters." No less, the conflict over lobster fishing rights for Mi'kmaq is underpinned by the encroachment of the multinational fishing corporation, Clearwater Lobster, on unceded territories.
Tensions have escalated between Mi'kmaq and non-Indigenous commercial fishermen in Nova Scotia, including recent conflicts in West Pubnico and Weymouth. As APTN reported on October 14, RCMP officers at both scenes of conflict appeared to "stand by and watch" as a van was torched, fishermen were attacked, and lobsters stored by Indigenous fishermen were destroyed by a mob. This apathy toward the attacks and destruction only further reveals the complicity and extension of Canadian police with settler violence against Indigenous peoples.
To better understand the scope of this issue, the team at Cinema Politica invites you to familiarize yourselves with the work of Halifax-based filmmaker Martha Stiegman. We had the opportunity to screen her work back in 2013, but you can still launch into your own exploration of two of her films, called IN DEFENSE OF OUR TREATIES (2008) and SEEKING NETUKULIMK (2013). Stiegman's work specifically relates to treaty rights and fishing in Mi'kma'ki. We also encourage you to view  this mini documentary released on September 25th — free to watch — by Brodie Young, Cheyenne Isaac-Gloade, Alexa Metallic & Jocelyn Mas'l. ALL EYES ON MI'KMA'KI delves into how Sipekne'katik First Nation launched a sovereign lobster fishery, and explores how Indigenous interests and practices are struggling against corporate and colonial interests that continue to disrespect the Peace and Friendship Treaties.
If you would like to learn more about how to support Mi'kmaq in Digby, Nova Scotia, you can refer to this list of resources here.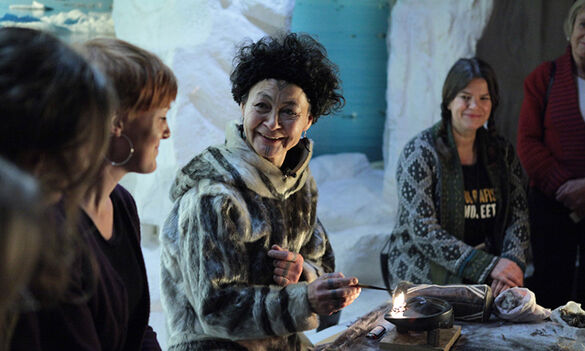 Image from ANGRY INUK.
Cinema Politica Locals:
For CP Locals, we encourage you to delve into our related films such as A RIGHT TO EAT by Janelle and Jeremie Wookey, which explores food insecurity in Cross Lake and Barren Lands First Nations in Northern Manitoba; ANGRY INUK by Alethea Arnaquq-Baril, which critically examines the sustainable Inuit practice of sealing in comparison with mining industries that have pushed into Inuit lands; or our recently added INVASION, which turns its lens on Unist'ot'en Camp, Gidimt'en checkpoint and the larger Wet'suwet'en Nation standing up to the Coastal GasLink Pipeline.
We hope our recommendations will ignite and inspire conversations around these critical issues in your communities.
If you have questions, requests or suggestions about programming to mobilize your community, or would like to coordinate a special event with Cinema Politica, please reach out to Network & Programming Coordinator at info@cinemapolitica.org If you would like to start a CP Local and launch your own season of Indigenous programming, visit here for more info.