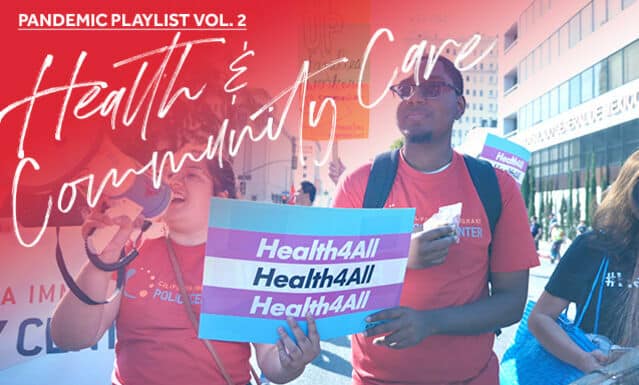 We launched our first Pandemic Playlist back in May as a means to reflect on the injustices and inequalities embedded in the capitalist system's assault on labour. When we first began assembling this next list of political films to stream during the COVID-19 global pandemic, George Floyd was still alive. Our theme, Health & Community Care, has since compelled us to include Sabaah Folayan's powerful feature WHOSE STREETS?, an artful testament to the power of community and collective care that rose out of Ferguson to inspire a global movement. With the recent, Black-led demonstrations against police brutality and anti-Black racism erupting across the US, Canada and globally, Folayan's intimate look at the community that rose around the killing of Michael Brown has an even stronger resonance.
We hope that the following playlist contributes to a culture of collective care, to communities of resistance, and to a massive shift away from white supremacy toward equality and justice for Black, Indigenous and people of colour everywhere. In light of the escalated settler violence against Mi'kmaq fishers in Nova Scotia, and the racism and complicity that has been demonstrated by Canadian RCMP officers, we see particular urgency for this shift here in Canada—where institutionalized and interpersonal racism is downplayed by politicians and gets less mainstream attention.
There has nonetheless been a tremendous community response in the form of mutual aid, cooperation, generosity, and solidarity to support both social movements and individuals struggling through the global pandemic. From frontline workers caring for those infected, to those working with grieving loved ones, to those providing essential services—care has never been so urgent, nor so integral to the health of communities.
The following ten films are linked by their stories of care and resistance, while providing vital critiques of unjust and harmful systems. While they cover divergent topics—from the privatization of health care, to frontline street nursing, to the strength of family in the face of colonization—they all share a commitment to social justice, the theme of care, and the creative spirit of progressive social movements.
Some are available for rental through Cinema Politica Pay-Per-View or streaming services, others can be viewed for free.
1. WHOSE STREETS? (Sabaah Folayan, USA, 2017, 103′)
Sabaah Folayan's deeply moving, incisive debut feature exposes white supremacy and the acts of community building that bravely confront and seek to dismantle it. WHOSE STREETS? is essential viewing in our current moment – it is a passionately political and artfully audacious film that centres Black community care and collective resistance. In its depiction of an early manifestation of Black Lives Matter in Ferguson, after the killing of Michael Brown, this urgent documentary is the story told by the activists on the ground. As Folayan says: "Policing is not arbitrary. It is specifically and systematically designed to control Black people, Indigenous people, brown people – all those who aren't white."
2. UNITED IN ANGER: A HISTORY OF ACT UP (Jim Hubbard, USA, 2012, 93')
This history of the AIDS activist movement in the US, crystallized in the New York-based AIDS Coalition to Unleash Power, is a poignant reminder that the politics of pandemics are nothing new to documentary activists. Co-produced by Hubbard with writer-archivist Sarah Schulman – and shot to a large extent by ACT UP veteran James Wentzy – this stirring film adds present-day interviews to an intense assemblage of archival footage of meetings, demos and confrontations. Following up on Hubbard and Schulman's famous ACT UP Oral History Project, UNITED IN ANGER shows us how feelings of mourning and anger can catalyze collective actions to effect change. What might the COVID-19 version of UNITED IN ANGER look like in 2040?
3. MANIC (Kalina Bertin, Canada, 2017, 84')
Few films have so delicately captured the essence of mental health and the dynamics of family the way MANIC does. Through a gorgeous visual and sound treatment that moves through the often fraught space of the director's family and their attendant mental health struggles, Bertin has crafted a compelling and visceral film. MANIC is both informative on mental health conditions and provocative through its storytelling that is, at its core, about finding loving means of understanding and support. This incredible film will outlive your viewing of it – it will surely stay with you as an enlightening experience about mental health, care and family for a long, long time.
4. BIRTH OF A FAMILY (Tasha Hubbard, Canada, 2017, 79')
Hubbard's award-winning, masterpiece documentary may not seem like an obvious selection for this list, but BIRTH OF A FAMILY is one of the most powerful films about community resilience ever released in Canada. Hubbard spends just a few short days with four siblings as they unite in the picturesque Rocky Mountains — for the first time after spending decades estranged from one another as a result of the brutal "Sixties Scoop" colonial policy. Tens of thousands of Indigenous children were stolen from their parents and "placed" in Residential Schools in Canada, and in this moving, transformational film Hubbard intimately focuses her lens on four survivors who, well into adulthood, come together and discuss what they have lost and what they may now forge together. It is a crucial tale of resilience in the face of oppressive systems, but also a story of the ways in which community—whether as kin or the wider community of survivors—can defy those systems and write their own futures.
5. COVER/AGE (Set Hernandez Rongkilyo, USA, 2019, 25')
Pandemics that occur in societies that are fractured by social and economic inequities always place the heaviest burden on the most vulnerable. This devastating point is made clear in COVER/AGE, but this urgent short doesn't dwell there: instead, this inspiring documentary follows organizers from the immigrant health justice movement in California and tells the story of the frontline workers seeking healthcare for all – including undocumented adults living in the US.
6. BEVEL UP – Drugs, Users and Outreach Nursing (Nettie Wild, Canada, 2007, 45')
As the global health pandemic has made painfully obvious, healthcare workers are not only essential to the functioning health of society, but they often carry out their work at great risk to their own mental and physical health. It is also no secret that womyn tend to bare the brunt of this low-wage labour. With Nettie Wild's unique exposé on street nurses in Vancouver's Downtown Eastside, we are reminded of the intensity and vital work that frontline healthcare workers conduct. Unabashedly personal and honest, this snapshot of street-level healthcare is as much about the relationships that form and sustain community care as it is about thinking beyond institutional forms of healthcare.
7. REVOLUTIONARY MEDICINE (Beth Geglia and Jesse Freeston, Canada, 2014, 40')
A remote hospital running off solar panels in Honduras serves as the focal point that draws together issues of race, class and healthcare. REVOLUTIONARY MEDICINE offers an inspiring look at the Garifuna who are living and organizing in that country, as they struggle against discrimination and dispossession. This vibrant documentary proves that healthcare isn't just about personal health – it's very much about the health of the community as well.
8. FLOOD: THE OVERDOSE EPIDEMIC IN CANADA (Adam D'Addario, Canada, 2019, 73')
As an alarming increasing rate of Canadians continue to die of overdoses, and countless families' lives are torn apart, D'Addario and the team behind FLOOD respectfully explore the root causes as well as possible ways out of the overdose epidemic. We say "respectfully" because, unfortunately, media treatments of substance use disorder (SUD) rarely take the political position of this film: drug addiction is a social health issue, not a criminal issue. With a stated mandate to "reduce the stigma around SUD and inspire others to take action", FLOOD crucially localizes the issue across Canadian provinces while presenting a clear and passionate call to action.
9. HEALTH FACTORY (Håvard Bustnes, Norway, 2010, 58')
A classic, artful Scandinavian documentary that creatively explores the processes and dire consequences of privatizing healthcare, HEALTH FACTORY offers a premise that has only intensified in relevance today. Accessible, free and quality healthcare is a public right and responsibility, especially as the COVID-19 pandemic makes more visible the extreme lines of discrimination in healthcare, which continue to be drawn along class, gender and racial lines.
10. A MESSAGE FROM THE FUTURE II: THE YEARS OF REPAIR (The Leap/The Intercept, 2020, 9')
We thought it fitting to end a pandemic playlist about healthcare and community care with a message from the future. In this beautifully animated, hope-filled short film, producers from The Leap and The Intercept ask fundamental questions that directly implicate the future health of humanity. From a world without prisons, to public housing, to the abolition of borders and a healed ecosystem, A MESSAGE FROM THE FUTURE II is the follow-up to the 2019 short, and features a cast of "political storytellers" who look back at the post-COVID years to tell the tale of how we collectively moved from climate and democratic crisis to a healthier place.