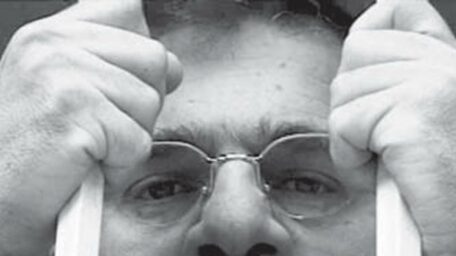 Mohamed Soueid is a Lebanese writer, director, and producer. Born in Beirut 1959. He is currently the Head of Documentary department at Al Arabiya News Channel.
As a director, he has directed several films, including: The Insomnia Of A Serial Dreamer (2020); Hanging Dates Under Aleppo's Citadel (2013); A Spell of Absence (2011); How Bitter My Sweet (2009), My Heart Beats Only For Her (2008); The Sky Is Not Always Above (2007); Civil War (2002); Nightfall (2000); Tango of Yearning (1998).
Mohamed Soueid wrote 3 books: "Postponed Cinema – Lebanese Films During the Civil War" (Essay, Published in Beirut 1986); "O Heart – A Film Autobiography On The Late Movie Theatres Of Old Beirut, Published in Beirut, 1996); "Cabaret Souad" (Novel, Published in Beirut, 2004).
(Photo: Mohamed Soueid, still from NIGHTFALL.)
Other films by Mohamed Soueid
The Insomnia Of A Serial Dreamer
Hanging Dates Under Aleppo's Citadel
A Spell of Absence
How Bitter My Sweet
My Heart Beats Only For Her
The Sky Is Not Always Above
Civil War
Nightfall
Tango of Yearning