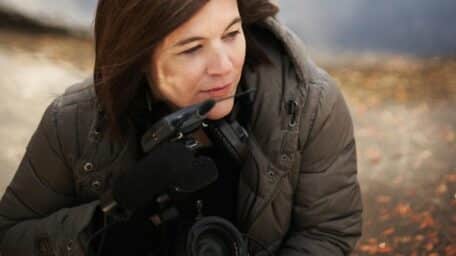 Katerina Cizek is an influential figure in international media, with over 25 years of experience as a Peabody- and Emmy-winning documentarian, author, producer, and senior leader working with collective processes and emergent technologies.
She is the co-founder, research scientist, and artistic director of the Co-Creation Studio at MIT Open Documentary Lab. She co-wrote the world's first comprehensive book on co-creating media, Collective Wisdom, published by MIT Press in 2022. At the studio, she designs and leads innovative incubators, workshops, research projects, delegations, and fellowships fusing art, documentary, and journalism with emergent tech and science.
For over a decade, Cizek worked as a documentary director at the National Film Board of Canada, transforming the organization into a world leader of  digital storytelling with the projects HIGHRISE and Filmmaker-in-Residence. Founded on both community-based and global partnerships, these two long-form digital projects garnered international awards and critical acclaim. Cizek's earlier human-rights documentary film projects — on subjects ranging from the handycam media revolution to people smuggling and the Rwandan genocide —  instigated criminal investigations, changed United Nations policies, and screened as evidence at an International Criminal Tribunal, as well as on television and at festivals around the world.
Currently, Cizek serves on multiple boards, including the inaugural Interactive Board of Jurors for the Peabody Awards, the inaugural Interdisciplinary Advisory Board at the Royal Shakespeare Company in the UK, as well as the AKO Storytelling Institute at the University of the Arts London. She is a mentor for the fellows progam at NEW INC in New York City. She has advised many media labs, including Sundance, ESoDOC (Italy), and CPH:LAB (Denmark). She is the Executive Producer for Assia Boundaoui's 2022 Inverse Surveillance Project. Cizek was as a Distinguished Visiting Professor at Toronto Metropolitan University and, prior to that, a Visiting Artist at MIT. She is a proud member of the Directors' Guild of Canada. As a frequent keynote speaker, panelist, and moderator, she advises on, designs, and facilitates programs around the world.