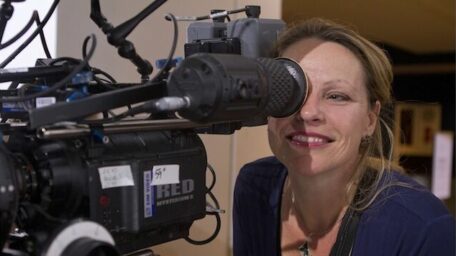 Since the early 1990's director Jill Sharpe has created an award winning body of work in the documentary genre which has been presented internationally at film festivals and along broadcast airwaves in over 20 countries. Highlighted in Queue Magazine as one of the Top 21 Artists for the Twenty First Century who could change the face of BC culture, Sharpe's interests span the issues of social justice, media and culture.
Short selected filmography:
-2011 "Bone Wind Fire" (30 mins) – a hybrid drama/doc/animated exploration of the creative processes of  three of the the 20th century's most remarkable artists – Frida Kahlo, Georgia O'Keeffe adn Emily Carr.    Best Canadian Film, International Festival of Films on Art.   Best Short Documentary, Sonoma International Film Festival.   Artistic Innovation Award, Women in Film and Television Vancouver.   Screened at International film festivals in: Vancouver, Victoria, Buenos Aires, Sao Palo, Rio de Janiero, Seoul, Newport, Santa Fe … and continuing.
-2007 "Corporations in the Classroom" (46 minutes) investigates the upside and downside of increasing corporate influence on public education in North America. New release premiering at DOCSDF Film Festival in Mexico City. Aired on Global Televsion in Canada. Director: Jill Sharpe
-2005 "Girls Don't Fight" (46 minutes) provocatively explores women's recent entry into what has long been considered a male domain: the fight rings of sport. Nominated for a Leo Award and Gemini Award: Best Sports Documentary. Aired on CTV in Canada. Director: Jill Sharpe
-2004 "Weird Sex & Snowshoes: A Trek Through the Canadian Cinematic Psyche" (60 minutes) bilingual documentary celebration of Canadian Cinema showcasing 70 films and interviewing Canada's top 21 feature directors. Won the 2nd Audience Choice Award at the Whistler International Film Festival. It also garnered a Leo Award nomination for Best Arts documentary. Aired on The Movie Network , Bravo and Movie Central, Canada. Director: Jill Sharpe
-2002 "CultureJam: Hijacking Commercial Culture" (57 mins) delivers a fascinating rap on the 20th century movement called "Culture Jamming". Won the Audience Choice Awards at both the Vancouver and Auckland International Film Festivals and was selected for over 35 international festival screens. Nominated for the prestigious Donald Brittain Award for Best Social Issue Documentary, it went on to win the Leo Award for Best Social Issue Documentary & Best Editing. Aired on CBC Newsworld and Vision TV, Canada and TRIO network in United States. Director: Jill Sharpe
-2002 "In the Company of Fear" (52 mins) about the power of non-violent action in the face of state terror, profiling the work of protective accompaniment in Colombia. Nominated Best Political DOC at the Canadian National Hot Docs Awards 2000; invited to over 20 International Film Festivals including the United Nations Film Festival in San Francisco, aired on Vision TV. The film is directed by Veclrow Ripper and written and produced by Jill Sharpe.