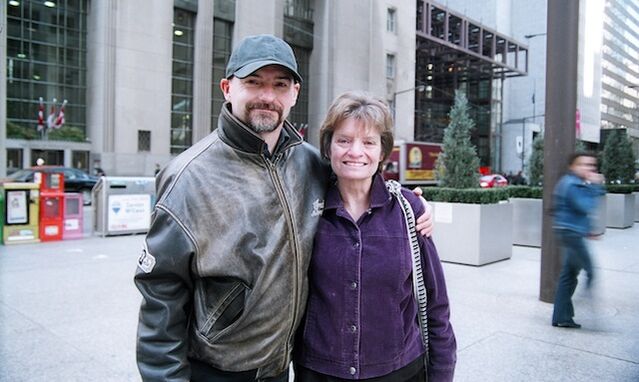 David Adkin studied music and theatre in Saskatoon before moving to Toronto to complete a BFA in Creative Writing and a MFA in Film (Screenwriting and Production) at York University.  His first short film The Salesman (1986), a black comedy about consumerism, was shown widely on CBC and Canadian pay television.  Since 1986, Adkin has been actively involved in the Toronto filmmaking scene as a director, producer, writer, editor, and researcher.  He has served on the board of the Canadian Independent Film Caucus (Toronto Chapter) and the Blue Ribbon Jury for Hot Docs.  His films encompass issues of social justice, human rights, history, media, the arts, and many other subjects.
Adkin's most recent documentary directing and editing credits include Home Safe Hamilton (2010, co-produced and directed with Laura Sky) – part of a series examining the reasons why Canadian families with children are struggling with poverty and the threat of homelessness. Debt Trap (2008), aired on Global Television's Global Currents series, is an ironic and enlightening look at the bigger economic forces pushing more and more consumers into record levels of personal debt.  Prescription for Addiction (2008) chronicled the growing epidemic of addiction to prescription opiate pain medications.
Adkin' work as a television director includes acclaimed documentary series Little Miracles chronicling real life cases at Toronto's Hospital for Sick Children, and Med Students, which follows the training of new doctors at McMaster University. He wrote and directed three episodes of the History Television series A Scattering of Seeds: The Creation of Canada.  First Lady of the Yukon: Martha Black (1999) tells the story of a Chicago woman who abandoned a life of privilege to seek adventure in the Klondike Gold Rush. The Reluctant Politician: The Story of Irene Parlby (2000) profiles an English immigrant who became a leading voice in the co-operative farm movement.  A Farmer from Amber Valley: J. D. Edwards (2001) chronicles the migration of African-American settlers to northern Alberta in 1910.
In 1998, Adkin directed and co-produced the feature documentary/comedy special We're Funny That Way (1998), a candid look at openly-gay comedians.  The film was a hit at festivals and has been broadcast on HBO's Cinemax, PBS, Bravo, Viewers Choice, and PrideVision TV.
Adkin produced and directed Jim Loves Jack:  The James Egan Story (1996), a documentary about Canada's first gay rights activist.  Broadcasts include Vision TV, TVOntario, ORF (Austria), and Planete France/Germany/Italy/Africa.  Jim Loves Jack received its European premiere at the Berlin Film Festival and won the Best Documentary award at the Turin International Gay and Lesbian Film Festival in Italy.
From 1987 to 1993 Adkin directed, researched, wrote, and/or edited several projects for the Ontario Centre of the National Film Board of Canada.  His debut as a documentary director was the critically-acclaimed NFB feature, Out: Stories of Lesbian and Gay Youth (1993).  Out was invited to major festivals in Montreal, Nyon, and Berlin and has received television, theatrical, and educational distribution worldwide. The film won a Gold Apple Award at the National Educational Film & Video Festival in Oakland, California, and garnered a Cable Ace Award nomination for Best International Documentary Special on American cable television.  Adkin also directed two best-selling educational anthologies for the NFB, Media & Society (1989) and Constructing Reality:  Exploring Media Issues in Documentary (1993), both designed to teach media literacy.
As an editor, Adkin has worked on several documentaries for television broadcast including Debt Trap (2008), Ali Kazimi's Continuous Journey (2005) and Barry Greenwald's The Experimental Eskimos (2010). He has also taught courses in documentary directing and writing for L.I.F.T., the Liaison of Independent Filmmakers of Toronto.
Since 2008, Adkin has worked as a co-producer, director, editor and Program Manager for SkyWorks Charitable Foundation, a non-profit organization dedicated to using documentary as a community development tool. In his current role as SkyWorks' Community Development Coordinator, Adkin is developing a new programming stream to train and engage youth to make their own films for social change.
Other films by David Adkin
Home Safe Hamilton / 2010
Prescription for Addiction / 2008
Little Miracles / 2005
Med Students / 2005
A Farmer from Amber Valley: J.D. Edwards / 2001
The Reluctant Politician: The Story of Irene Parlby / 2000
First Lady of the Yukon: Martha Black / 1999
We're Funny That Way / 1998
Jim Loves Jack – The James Egan Story / 1996
Constructing Reality / 1993
Out: Stories of Lesbian and Gay Youth / 1993
Media & Society / 1989
The Salesman / 1986