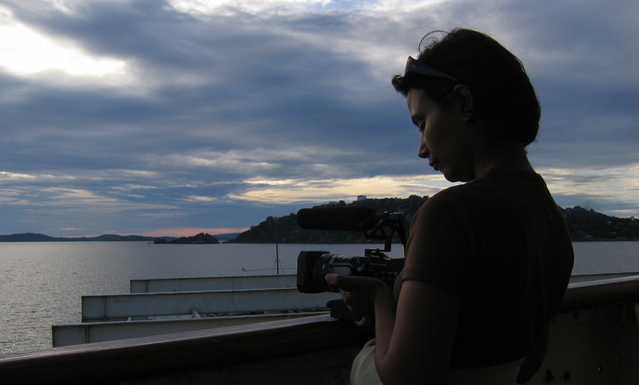 Chanda has been the driving force behind a wide range of creative documentary-based projects. Chanda aims to make documentaries that deal with complex social issues in an artistic way.
Chanda's most recent film is Living Downstream, a cinematic documentary about cancer and environmental toxicants. Based on the acclaimed book by ecologist and cancer survivor Sandra Steingraber, Living Downstream is Chanda's third creative documentary and her first feature-length film. Living Downstream has won multiple awards, screened publicly over 200 times, and been broadcast on public and commercial television on four continents.
In 2005 and 2006, Chanda and her partner, Nathan Shields, lived in Uganda, producing educational films with Raising Voices, an organization committed to preventing violence against women and children in sub-Saharan Africa. These films are currently in use by thousands of grassroots organizations around the world and have contributed to tangible legislative and social change in the region. Before becoming a director, Chanda was an associate producer and production manager at Primitive Entertainment for five years, where she worked on thirteen productions ranging from television series to theatrical documentaries.
Chanda is passionate about using media for social change and public education. She has authored several educational resources, including a pair of 200-page guides for individuals and groups using Living Downstream and two blogs for the National Film Board of Canada's CitizenSHIFT website. Chanda has trained as an artist-educator with the Royal Conservatory and as a workshop facilitator with the Alternatives to Violence Project. She has led filmmaking workshops in a variety of settings, ranging from universities to public libraries. She is an instructor in the Business of Film and Television post-graduate program at Centennial College.
Chanda is currently in production on her second feature documentary, an observational documentary about the debate over fracking in New York State. She lives in Toronto with Nathan and their two young children Hannah and Henry. Chanda is a graduate of Sheridan College's Media Arts Program and a board member of the Documentary Organization of Canada.
Other films by Chanda Chevannes
Pity Face: The Making of a One-Woman Show
Unfractured
That of God
Sasa! A Film About Women, Violence and HIV/AIDS