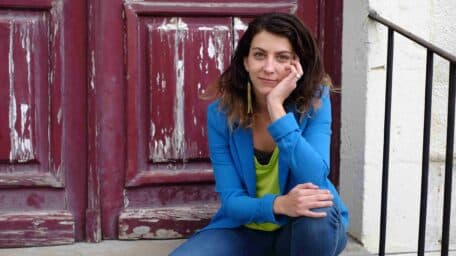 After studying anthropology and oriental languages, she joined the Ecole du Doc de Lussas in 2005. Her first three medium-length documentaries explore the themes of disappearance and belonging to a real or fantasized territory (Inventaire / Adalios Production, Pas de Nostalgie Camarades / Sister Productions, Avoir 15 ans sur le Plateau / Z'azimut Films).
She has worked as a DP with authors and directors on their documentary films. She has also explored dance videos with the dancer Buto Anne Laure Lamarque and the composer Florent Ghys. She also directed several clips for the group Chocolat Billy.  She collaborates with the Random collective, which works in the public space around dance and theater, by integrating her documentary practice. The desire to film the body as a field of political and poetic invention has become central to her work in recent years.
She collaborates with Mael le Mée and Benjamin Charles, in the company BAM, on a project mixing arts and science, entitled 16 Place Vendôme, where electro-stimulation becomes a vector of muscular musical listening.
It is in this spirit that she has been developing a feature film project for the cinema since 2015, Nos corps sont vos champs de bataille, with Dublin Films, a journey into the claims of two Argentinean trans women.