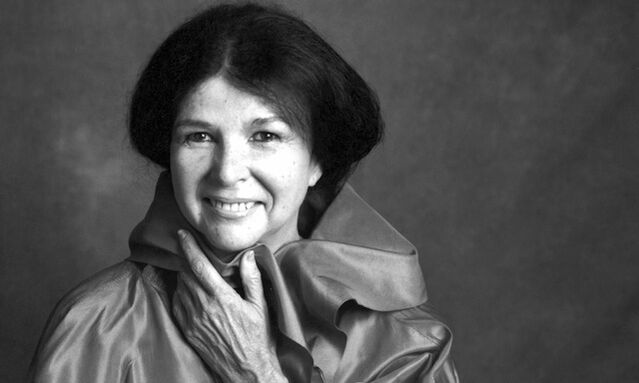 Alanis Obomsawin, OC (born August 31, 1932) is a Canadian filmmaker of Abenaki descent. Born in New Hampshire, and raised primarily in Quebec, she has produced and directed many National Film Board of Canada documentaries on First Nations culture and history. Her best known documentary is Kanehsatake: 270 Years of Resistance, about the 1990 siege at Oka, Quebec.
For 38 years, Obomsawin has directed documentaries at the NFB. To date, she has made over 30 documentaries on issues affecting Aboriginal people in Canada.
Her latest NFB film is the short drama When All the Leaves are Gone, about her experiences attending public school in Quebec.
In 2009, she completed the documentary Professor Norman Cornett: "Since when do we divorce the right answer from an honest answer? looking at the dismissal of unorthodox McGill University religious studies lecturer Norman Cornett, which will have its world premiere at the Hot Docs film festival.
Obomsawin's recent credits include Gene Boy Came Home, about Aboriginal Vietnam War veteran Eugene Benedict.In 2006, she completed WABAN-AKI: People from Where the Sun Rises a look at the people and stories from her home reserve of Odanak. In 2005, Ms Obomsawin completed her short drama Sigwan, following a young girl who is aided by the animals of the forest. Her 2003 NFB documentary Our Nationhood, chronicles the determination and tenacity of the Listuguj Mi'gmaq First Nation to use and manage the natural resources of their traditional lands. The Mi'gmaq of Esgenoopetitj (Burnt Church), New Brunswick were the subject of her 2002 documentary, Is the Crown at war with us?, exploring a conflict over fishing rights.
The 2000 NFB release Rocks at Whiskey Trench was Obomsawin's fourth film in her series about the 1990 Oka crisis. The first, Kanehsatake: 270 Years of Resistance (1993), was a feature-length film documenting the 1990 Mohawk uprising in Kanehsatake and Oka, which has won 18 international awards. It was followed by My Name is Kahentiiosta (1995), a film about a young Kahnawake Mohawk woman who was arrested after the 78-day armed standoff, and Spudwrench – Kahnawake Man (1997), profiling Randy Horne, a high-steel worker from the Mohawk community of Kahnawake.
Obomsawin's films also include: Incident at Restigouche (1984), a powerful depiction of the Quebec police raid of a Micmac reserve; Richard Cardinal: Cry from a Diary of a Métis Child (1986), the disturbing examination of an adolescent suicide, No Address (1988), a look at Montreal's homeless, as well as Mother of Many Children (1977).
Alanis got her start at the NFB in 1967, when producers Joe Koenig and Bob Verrall saw Obomsawin on TV. They invited the singer/storyteller to the Film Board to work as an advisor on a film about Aboriginal people. Obomsawin went on to direct films of her own, while continuing to perform and fight for justice for her people.
Obomsawin is the subject of the first-ever book on Native filmmakers, Alanis Obomsawin: The Vision of a Native Filmmaker, by Randolph Lewis, published in 2006 by the University of Nebraska Press.
In 2010, she was named to the Playback Canadian Film & Television Hall of Fame. In the spring of 2009, Obomsawin was honoured with a special retrospective at Hot Docs and received the festival's Hot Docs Outstanding Achievement Award. A retrospective her work was also held from May 14 to 26, 2008 at the Museum of Modern Art in New York City. That same month, she was also honoured with the Governor General's Performing Arts Award for Lifetime Artistic Achievement, at Rideau Hall in Ottawa.
In March 2001, Obomsawin received a Governor General's Award in Visual and Media Arts. An Officer of the Order of Canada, Obomsawin's many honours also include the Luminaria Tribute for Lifetime Achievement from the Santa Fe Film Festival, International Documentary Association's Pioneer Award, the Toronto Women in Film and Television's (TWIFT) Outstanding Achievement Award in Direction, the Canadian Native Arts Foundation National Aboriginal Achievement Award, and the Outstanding Contributions Award from the Canadian Sociology and Anthropology Association (CSAA). The latter marks the first time that the CSAA has honoured someone who is not an academic in the field of sociology and anthropology.
Obomsawin also received a fellowship from the Ontario College of Art, an Honorary Doctor of Letters from York University, an Honorary Doctor of Laws from Concordia University (Montreal), an Honorary Doctor of Literature from Carleton University, and most recently in October 2007 an Honorary Doctor of Laws from the University of Western Ontario. She has taught at the Summer Institute of Film and Television in Ottawa.
Obomsawin has chaired the Board of Directors of the Native Women's Shelter of Montreal and sat on the Canada Council's First People's Advisory Board. She was also a board member of Studio 1, the NFB's Aboriginal studio, and a former advisor to the New Initiatives in Film, a Studio D program for women of colour and women of the First Nations. As a member of the Board of Aboriginal Voices, she was part of an initiative to obtain a radio licence for the organization. A lifetime member of the Board of Directors for the Aboriginal Peoples Television Network, Ms Obomsawin is also a Member of the Board for Vermont Public Television and National Geographic International.
Other films by Alanis Obomsawin
Trick or Treaty? / 2014
Hi-Ho Mistahey / 2013
The People of the Kattawapiskak River / 2012
History of Manawan Part Two / 2009
Waban-aki: People From Where the Sun Rises / 2006
Our Nationhood / 2004
Is the Crown at War with Us? / 2002
Rocks at Whiskey Trench / 2000
Spudwrench / 1997
My Name is Kahentiiosta / 1995
Kanehsatake 270 Years of Resistance / 1993
Walker / 1992
Le patro Le Prévost - 80 Years Later / 1991
No Address / 1988
Poundmaker's Lodge: A Healing Place / 1987
Richard Cardinal: Cry from the Diary of a Métis Child / 1986
Incident at Restigouche / 1984
Canada Vignettes: Wild Rice Harvest Kenora / 1979
Gabriel Goes to the City / 1979
Mother of Many Children / 1977
Amisk / 1977
Christmas at Moose factory / 1971