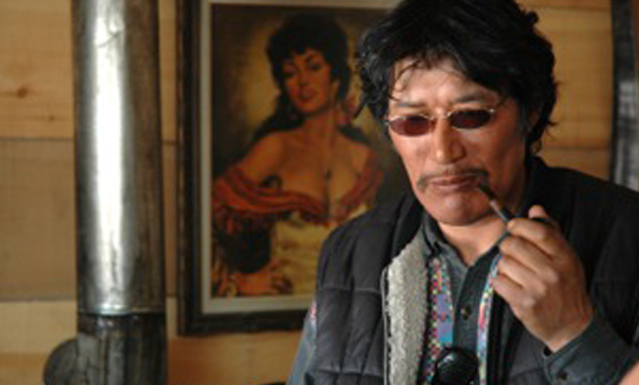 Born in Kapuivik in the eastern Canadian Arctic, filmmaker, artist, and hunter Zacharias Kunuk (Inuit) spent his childhood summers traveling and hunting with his family and his winters going to school in Igloolik, where his family were involuntarily settled when Kunuk was nine years old. Originally working as a successful soapstone carver, Kunuk purchased a video camera in 1981 and the next year joined the Inuit Broadcasting Corporation in Igloolik, where he was senior producer and station manager when he left in 1991. During his final years there, he also worked as an independent producer.
In 1985 he began a collaboration with video artist Norman Cohn to produce independent videos, such as Qaggiq/Gathering Place, that launched the filmmaking approach that Kunuk has stayed with, working closely within his own community with community actors whose own sense of history and story infuse their work with the filmmaker. In 1991 Kunuk and Cohn founded Igloolik Isuma Productions with Paulossie Qulitalik and Paul Apak Angilirq (who also wrote Atanarjuat/The Fast Runner) with the intention of creating independent media-based projects to preserve and represent Inuit culture and language and to draw from talent in Igloolik and the region.
Kunuk's first feature film, Atanarjuat/The Fast Runner, is a milestone in the development of an independent indigenous cinema. In 2001, it won the Camera d'Or for Best First Feature at the Cannes film Festival and six Genie awards in Canada, including for Best Picture and Best Director. Epic in scope, the film powerfully portrays a traditional Inuit tale concerned with love, murderous jealousy, magic, and survival. It is the first film in Canada to be produced in an aboriginal language and the first film produced in the Inuktitut language. For his achievements, in 2002 Kunuk was made an Officer of the Order of Canada.
Atanarjuat is part of a trilogy produced by Isuma to depict first contact in the area of Igloolik. Journals of Knud Rasmussen, his second feature, premiered at the Toronto International Film Festival in 2006. The third film, Before Tomorrow (d. Marie-Helene Cousineau and Madeline Ivalu (Inuit)) was executive produced by Kunuk and Cohn. It is the first feature to be written and directed by Arnait Video Productions, a women's collective based in Igloolik. Before Tomorrow was nominated for nine Genie Awards including Best Picture and Best Director.
Kunuk and Cohn also produced the short film Tungijuq, which won Best Short Drama at the 2009 imagineNATIVE Film & Media Arts Festival and screened at Sundance. Most recently Kunuk joined with researcher and filmmaker Dr. Ian Mauro to co-direct the film Qapirangajuq: Inuit Knowledge and Climate Change, which documents the knowledge and experience of the Inuit hunting communities who speak from the front line of environmental changes in the 21st century.