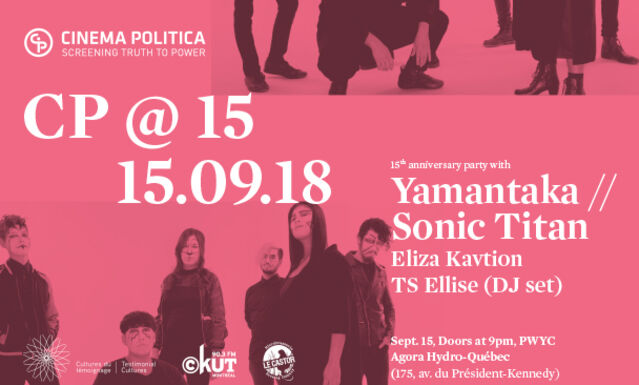 On September 18th, 2003, 150 people—mostly students—gathered in Concordia's Hall Building on the fourth floor in Room H-420 to watch Elem Klimov's classic anti-war epic COME AND SEE (1985). It was the official launch of Cinema Politica, a new screening initiative on campus that promised to create spaces for political film encounters and discussions afterward. Klimov's masterpiece follows a Belorussian boy stumbling through the horrors of WWII, and after the 142-minute film ended a rousing audience dialogue took place between peace activists, Russian cinephiles and Belorussians whose families had experienced the war. It was an auspicious beginning to what would become the longest-running film series on campus.
It's now fifteen years later and that scrappy DIY project has grown into an international network of 100 screening sites dotting the globe. Cinema Politica is now the largest alternative documentary exhibition network in the world, and in recent years we have expanded our efforts to include a Dedicated Distribution arm and On Demand streaming services.
To help us properly celebrate this auspicious occasion we've invited some very special guests so please save the date!
What: Cinema Politica's 15 Year Anniversary Party with headliner Yamantaka // Sonic Titan, and Eliza Kavtion, TS Ellise (DJ set). Hosted by Jordan Arseneault.
When: Saturday, September 15, 2018, doors at 9PM
Where: Agora Hydro-Québec, (175 Avenue du Président-Kennedy, Montreal)
Cost: PWYC (suggested donation $5-15)
YAMANTAKA // SONIC TITAN
We are thrilled to be hosting Toronto-based Noh-Wave prog collective Yamantaka // Sonic Titan. Their latest release DIRT (Paper Bag, 2018) is the soundtrack to an unreleased Haudenosaunee and Buddhist anime from 1987. It combines Iroquois creation myth, Buddhist principles and classic sci-fi themes to explore the tragic nature of humanity. Their live show is a sensory overload making ample use of make-up, costumes and of course sound to bring audiences into their world.   
ELIZA KAVTION
Eliza Kavtion is a Mohawk experimental guitarist. Layering samples over her virtuosic guitar-playing she uses her music to explore issues related to indigenous sovereignty and resistance. A true devotee of the shred – her riffing is as radical as her politics. Drummer John Milchem, rounds out the lineup, providing pulsing, organic beats.
TS Ellise (DJ set)
The DJ alter ego of the fabulous Elle Barbara.
Hosted by Jordan Arseneault
Jordan Arseneault is a performer, social artist, writer, and meeting facilitator. Arseneault's workshops address issues around criminalization, stigma, HIV/AIDS, addiction, and community. He hosts cabarets by night and curates film programs by day for MediaQueer.ca—a curatorial tool for LGBTQ Canadian and Québec film and video.